Recommended Products For Equestrian Rings:
Micro Rain irrigators are well known for watering riding rings for many types of equestrian events.  The importance of proper footing is essential to the safety of both horse and rider.  Maintaining the proper moisture content in footing is a major factor in the equation. When we can put the convenience back into watering, we tend to keep our footing in better shape.  That's where Micro Rain travelers come in!  Our model MR25 & MR32 are popular sizes for watering equestrian rings. The MR25 operates with 3 to 10 GPM from a standard garden hose and the MR32 operates from a 1" line with 7 to 20 gallons per minute applying water evenly from side to side as it retracts the sprinkler cart.  Ideal pressures are from 40 to 60psi with the MR25 and 60 to 80psi with the MR32.  The MR32 & the MR25 optimize pressure and flow for the most convenient application of water.   Call us today for help choosing a Micro Rain for your ring at 1-800-373-9325!
Average Equestrian Arena Dimensions: 200 ft. x 100 ft.
MR25 Maximum Irrigated Width:  98 feet  (Width coverage may be dialed lower for regulation rings.)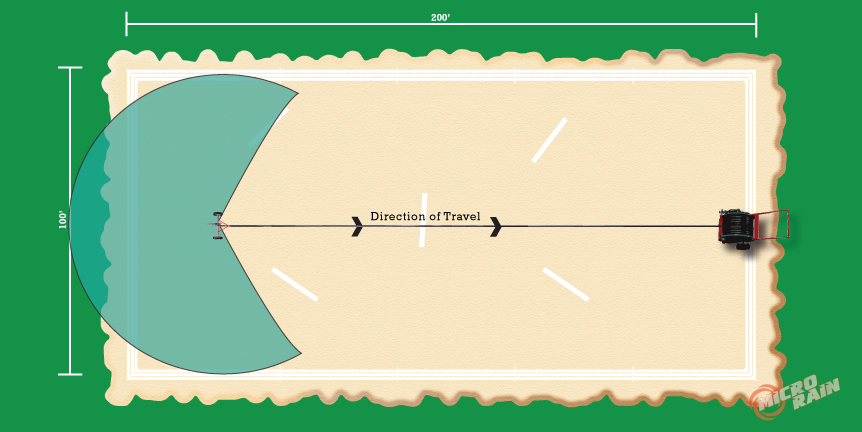 MR32 Maximum Irrigated Width:  132 feet  (Width coverage may be dialed lower for regulation rings)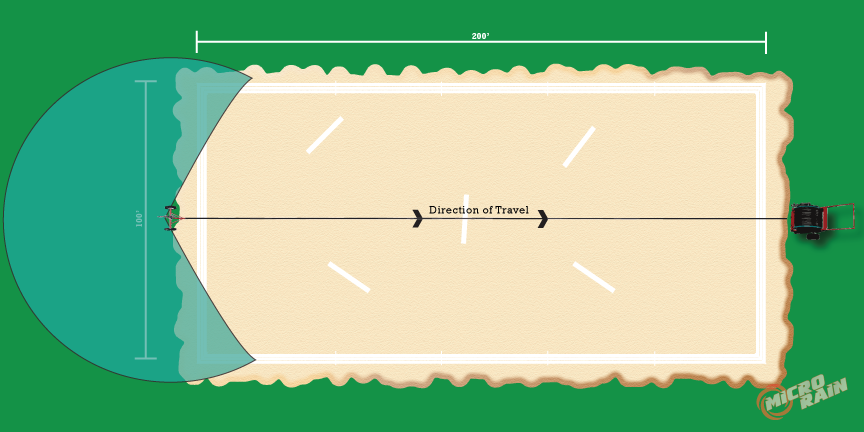 Images