The MR32 combines heavy duty, quality steel frame and reel construction with the simple, yet maneuverable two wheel design like it's smaller counterpart-the MR25. Build to withstand heavy use, the MR32 operates from a 1 inch line (or 3/4" hose if flow and pressure is adequate) and allows irrigated areas up to 300 feet long and 120 feet wide for sports fields, horse arenas, hobby farms, or any area up to 4 acres. The MR32 is also available with a hitch kit making it compatible for towing with an ATV or small garden tractor! An excellent reel irrigator for many different applications! View the full performance chart for coverages and application rates.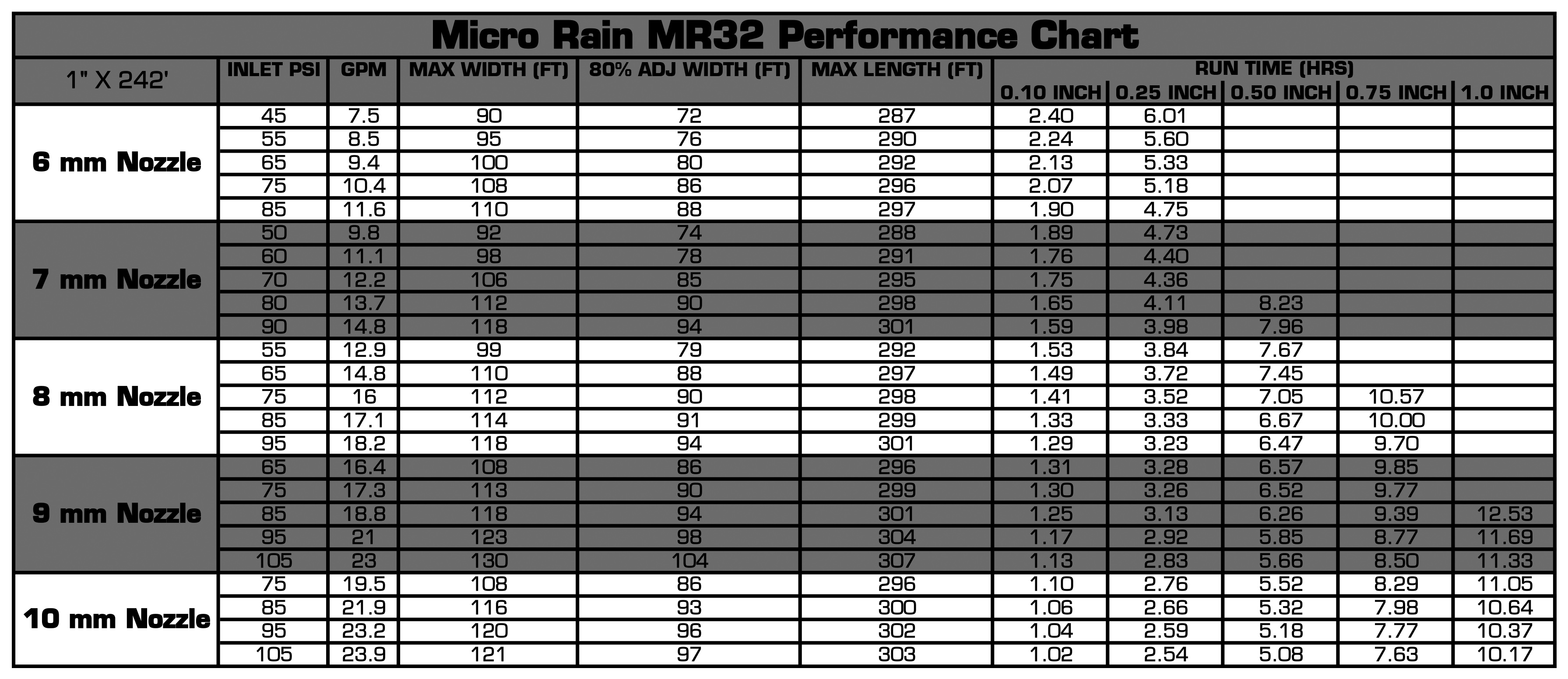 NOTICE: These specifications are for a guide only and are based on theoretical calculations and performance tests. This is to be used as a guide only, as performance may vary under field conditions or when machine speed control adjusted. The combination of gallons per minute, pressure, and atmospheric conditions such as wind speed will determine your performance characteristics. Shortening tube length can also increase the performance of your Micro Rain.
Turbine Operated
Heavy Duty, All Metal Drum & Chassis Design
Automatic Retraction & Shutdown
Speed Control for Desired Application Rates
Pressure Gauge to Determine Inlet Pressure
Supply Hose (1" x 15')
Scrolled Levelwind to Ensure Tube Wraps Correctly
Tube Mis-Wrap Safety
Two Wheel Sprinkler Cart w/ Part Circle Impact or Rotor Style Sprinkler
Stabilizer Legs
Durable Powder Coat Finish
1 Year Machine Warranty & 3 Year, 100% Poly Tube Warranty
Tube I.D. - 1.0"
Tube Length - 242'
Machine Length - 64"
Machine Width - 34"
Machine Height - 48"
Machine Weight (Dry) - 315 lbs.
Palletized Weight - 376 lbs.