The MR43 is one of our most popular machines and meets a variety of irrigation needs including single pass coverage on football fields, large riding arenas, small acreage irrigation, and much more!  Built with a three wheel chassis design and integrated stabilizer hitch, the MR43 has a flow range from 15 to 60 gallons per minute and a 393 feet hose length. The MR43 can effectively water up to 1.5 acres in a single pull! The ability to add the reliable on board Honda boost pump kit with auxilliary large capacity fuel tank for longer run times, can greatly enhance performance in low-pressure situations.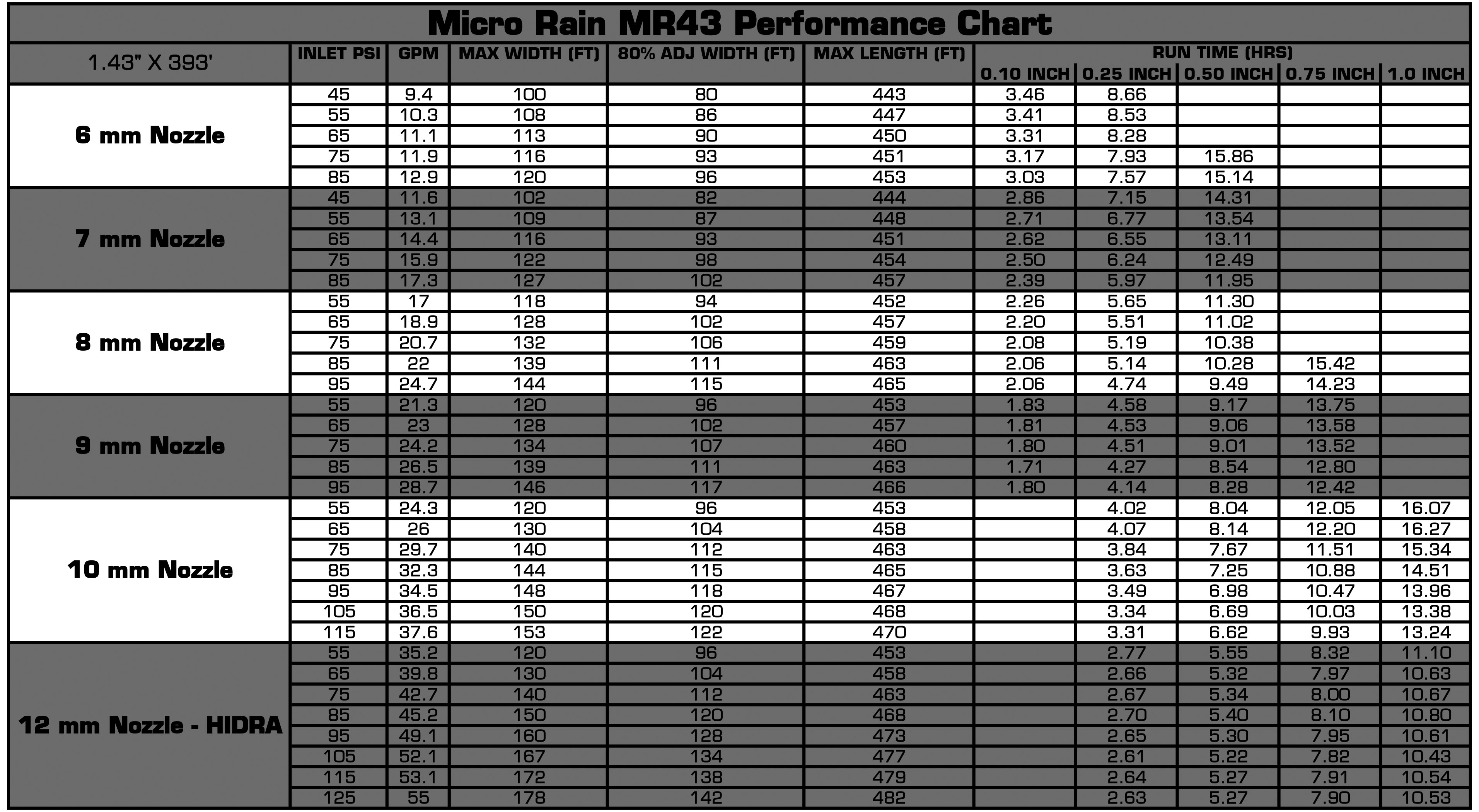 NOTICE: These specifications are for a guide only and are based on theoretical calculations and performance tests. This is to be used as a guide only, as performance may vary under field conditions or when machine speed control adjusted. The combination of gallons per minute, pressure, and atmospheric conditions such as wind speed will determine your performance characteristics. Shortening tube length can also increase the performance of your Micro Rain.
Three Wheel Chassis Design for Easy Towing
Turbine Operated
Automatic Retraction & Shutdown
Speed Control for Desired Application Rates
Pressure Gauge to Determine Inlet Pressure
Supply Hose (2" x 20')
Scrolled Level-Wind to Facilitate Correct Tube Wrapping
Tube Mis-Wrap Safety
Two Wheel, Galvanized Sprinkler Cart w/ Part Circle Sprinkler
Sprinkler Cart Bracket for Transporting
PTO Rewind for Emergency Roll Up of Hose
Stabilizer Hitch to Hold Machine in Position
Low Maintenance Wheel Bearings
Easy Winter Draining Facilities
1 Year Machine Warranty & 3 Year, 100% Poly Tube Warranty
Tube I.D. - 1.43"
Tube Length - 393'
Machine Length - 80"
Machine Width - 50"
Machine Height - 50"
Machine Weight (Dry) - 538 lbs.
Palletized Weight - 783 lbs.
Machine Height - 48"
Machine Weight (Dry) - 315 lbs.
Palletized Weight - 376 lbs.
Tube I.D. - 1.0"
Tube Length - 242'
Machine Length - 64"
Machine Width - 34"