The MR43BP includes the standard MR43 equipped chassis and also incorporates a 5.5 horsepower booster package which includes a reliable GX160 Honda engine with high pressure booster pump, auxilliary 7 gallon fuel tank with mount bracket, and flow sensor shut down system.  The boost pump will increase pressure up to 50 psi above your incoming pressure at the inlet of the machine.  This allows maximum coverage of up to 450 feet long and over 150 feet wide per run. Flow rates on the MR43 range from 15 to 60 gallons per minute.  The on-board booster kits allow for maximum performance output on your Micro Rain traveler!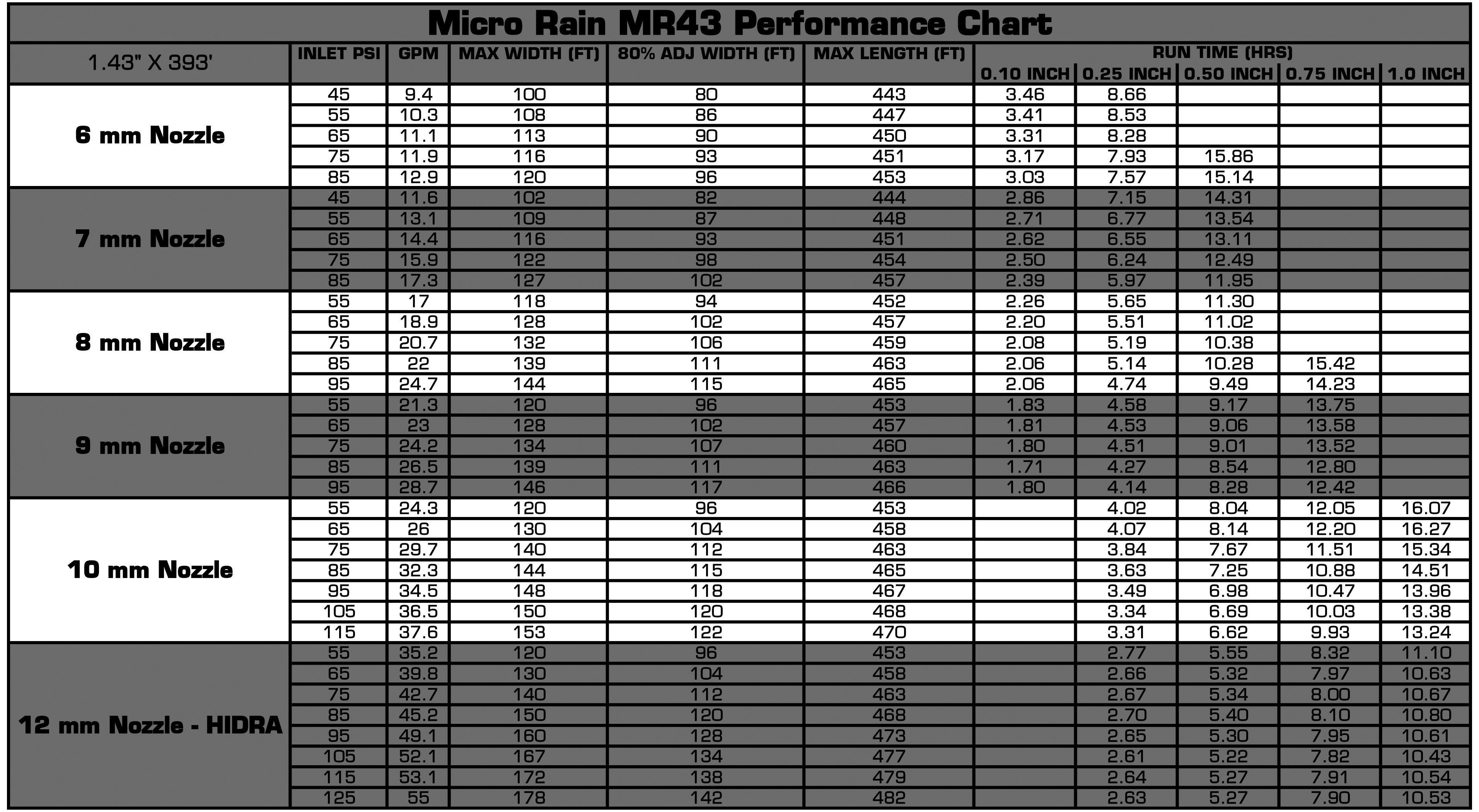 NOTICE: These specifications are for a guide only and are based on theoretical calculations and performance tests. This is to be used as a guide only, as performance may vary under field conditions or when machine speed control adjusted. The combination of gallons per minute, pressure, and atmospheric conditions such as wind speed will determine your performance characteristics. Shortening tube length can also increase the performance of your Micro Rain.
Stable 3 Wheel Design for Easy Towing
Variable Speed Control
Automatic, Heavy Duty Cart Shut-Off
Water Turbine Drive (Cast Aluminum)
Scrolled Levelwind System
Emergency PTO Rewind Capability
Oil Bath Transmission w/ Direct Reel Drive - No Belts or Pulleys!
Hot Galvanized Front Tongue/Stabilizer & Sprinkler Cart w/ Part Circle Sprinkler
Tube Miswrap Safety
Low Maintenance Wheel Bearings
Tube I.D. - 1.43"
Tube Length - 393'
Machine Length - 80"
Machine Width - 50"
Machine Height - 50"
Machine Weight (dry) - 838 lbs.
Palletized Weight - 1153 lbs.